In the rapidly evolving world of industrial automation, staying ahead of the curve requires innovative and reliable solutions. Baumer, a renowned global leader in sensor and automation technology, has been at the forefront of driving industrial advancements for over 70 years. With their comprehensive range of products, Baumer empowers businesses in India to enhance their industrial automation processes. In this blog, we will explore some common use cases of Baumer products in industrial automation, showcasing their versatility, precision, and impact on the manufacturing landscape. We are authorized distributors for Baumer in India. We have ready stock of Baumer sensors, Baumer heavy-duty encoders, and Baumer vision cameras. You can contact us at +91 8976298422 so that we can assess your requirement & suggest the right product.
Revolutionizing Industrial Automation with Baumer Products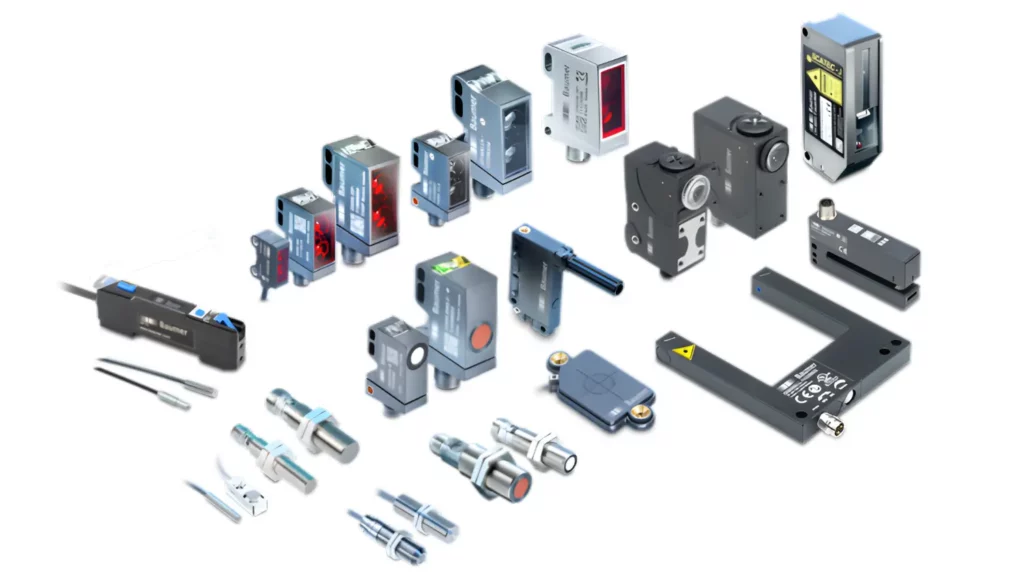 1. Precision Sensing and Measurement:
Accurate sensing and measurement are paramount in industrial automation to ensure consistent product quality, process control, and compliance with industry standards. Baumer's extensive range of sensors, encoders, and measuring instruments offer precise and reliable data acquisition capabilities. Whether it's detecting objects, measuring distances, monitoring temperature, or capturing images, Baumer products deliver exceptional performance, enabling businesses to optimize their manufacturing processes and achieve higher levels of efficiency.
2. Vision Systems and Inspection:
Quality control and inspection play a vital role in industrial automation, preventing defects and ensuring products meet stringent specifications. Baumer's vision systems and inspection solutions provide cutting-edge technology for automated visual inspection, defect detection, and identification tasks. From high-speed barcode reading to complex surface inspection, Baumer products enable businesses to streamline their quality control processes, reduce human error, and enhance product reliability.
3. Process Monitoring and Control:
Efficient process monitoring and control are essential for achieving operational excellence in industrial automation. Baumer offers a wide range of process sensors and instruments that enable real-time monitoring of parameters such as pressure, temperature, level, and flow. With their advanced accuracy, reliability, and connectivity options, Baumer products facilitate precise process control, ensuring optimal performance, reducing downtime, and improving overall productivity.
4. Industrial Communication and Networking:
Seamless communication and networking are the backbone of modern industrial automation systems. Baumer's extensive portfolio of communication and networking solutions provides robust connectivity options for integrating machines, devices, and systems. With protocols like Ethernet, Profinet, and IO-Link, Baumer products enable efficient data exchange, remote monitoring, and control, fostering seamless collaboration between different components of the automation ecosystem.
5. Motion Control and Robotics:
Motion control and robotics have revolutionized industrial automation, enabling precision movements, enhanced productivity, and flexible manufacturing processes. Baumer's range of intelligent motor feedback systems, encoders, and controllers is designed to meet the demanding requirements of motion control applications. These products ensure accurate position and speed control, safe operation, and efficient power utilization, making them ideal for robotics, CNC machines, and other motion-intensive applications.
Conclusion:
Baumer products have emerged as game-changers in the field of industrial automation, empowering businesses in India with cutting-edge solutions for precise sensing, measurement, inspection, process control, and communication. As an authorized distributor of Baumer products in India, we are committed to bringing the latest advancements in automation technology to our customers. By incorporating Baumer products into their automation processes, businesses can unlock new levels of efficiency, productivity, and quality, positioning themselves at the forefront of the fourth industrial revolution. Embrace the power of Baumer and revolutionize your industrial automation journey today!