In the realm of industrial automation, reliable and efficient connectivity solutions are vital to ensure seamless operation and productivity. Among the leading providers of innovative connectivity solutions, HARTING India stands out as a global leader. With a legacy of over 75 years, HARTING connectors have become synonymous with quality, durability, and high performance. In this blog, we will explore the common use cases of HARTING products in industrial automation, highlighting their key benefits and how they enhance the connectivity landscape in India. We are authorized distributors for Harting in India. We have ready stock of Han & Bric connectors from 3 pins to 64 pins. You can contact us at +91 8976298422 so that we can assess your requirement & suggest the right connector
Unlocking the Power of HARTING Connectors in Industrial Automation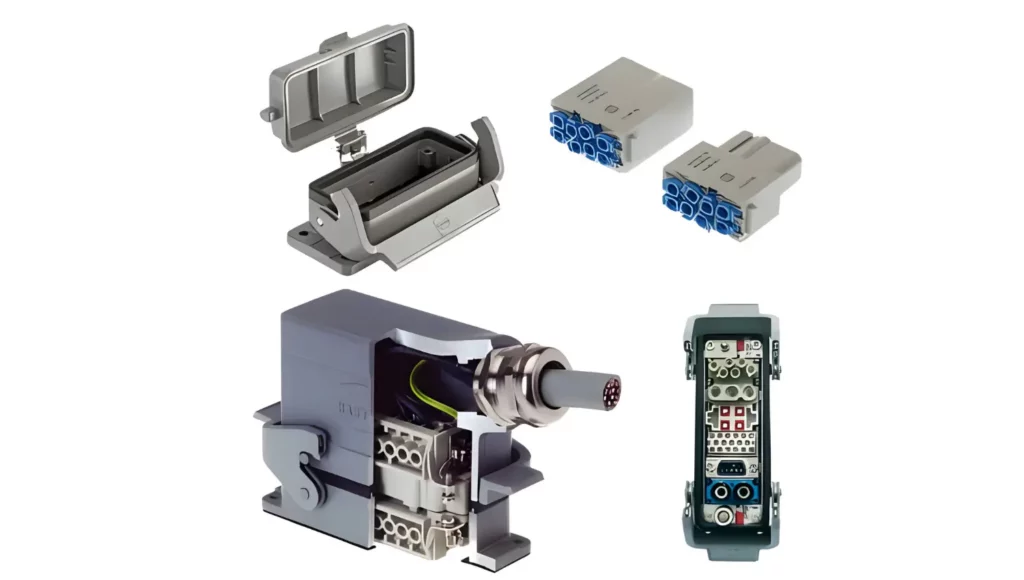 1. Machinery and Equipment Interfacing:
HARTING connectors play a crucial role in connecting various machinery and equipment within industrial automation systems. These Harting heavy duty connectors facilitate secure and robust connections between devices, enabling data and power transmission. Whether it's a simple sensor connection or complex machine-to-machine communication, these connectors provide reliable interconnection solutions that enhance operational efficiency.
2. Control Cabinets and Panel Building:
Control cabinets form the backbone of industrial automation systems, housing crucial electronic components and control devices. These connectors offer a comprehensive range of solutions for control cabinet and panel building applications. They enable quick and easy installation, reducing wiring complexity and saving valuable time. With their high current-carrying capacity, vibration resistance, and robustness, these connectors ensure long-term reliability in demanding industrial environments.
3. Industrial Ethernet and Fieldbus Systems:
As industrial automation systems become increasingly digitized, the demand for reliable and high-speed data transmission has grown significantly. These connectors support a wide range of industrial Ethernet and fieldbus protocols, including EtherCAT, PROFINET, and Modbus. These connectors provide secure and fast data transfer, minimizing latency and maximizing system performance. With their rugged design, These connectors are well-suited for harsh industrial environments, offering long-term stability and uninterrupted connectivity.
4. Robotics and Automated Guided Vehicles (AGVs):
Robots and AGVs are revolutionizing industrial automation, enabling flexible and efficient manufacturing processes. These connectors are widely used in robot applications, facilitating the connection of various robot components such as motors, sensors, and grippers. These connectors are designed to withstand the dynamic movements and high loads encountered in robotic operations. With their high mating cycle durability and secure connections, these connectors contribute to the seamless functioning of robotics and AGVs, enhancing productivity and safety.
5. Renewable Energy Systems:
The renewable energy sector, including solar and wind power, relies on dependable connectivity solutions to ensure efficient power generation. These connectors are extensively used in renewable energy systems, enabling reliable connections between solar panels, inverters, and energy storage devices. With their high-performance capabilities, these connectors contribute to optimized power transmission, system monitoring, and maintenance in renewable energy applications.
Conclusion:
HARTING connectors have become an integral part of industrial automation systems, empowering businesses across various sectors with reliable and efficient connectivity solutions. From machinery interfacing to control cabinets, industrial Ethernet to robotics, and renewable energy systems, these connectors excel in diverse applications. As a trusted distributor of HARTING products in India, we are committed to providing the latest connectivity solutions, ensuring our customers benefit from the cutting-edge technology offered by HARTING. With Harting connectors, industrial automation in India is poised for enhanced efficiency, productivity, and growth.